Exhibitors' Reviews
OMK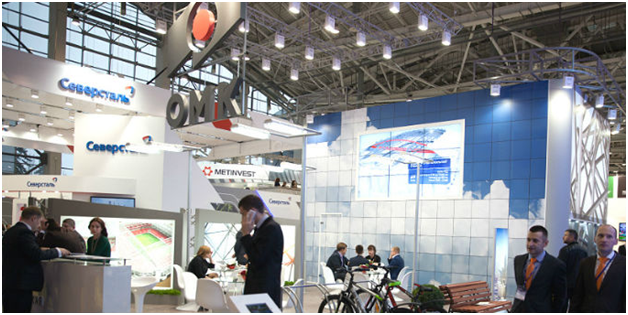 United Metallurgical Company (OMK Joint Stock Company, based in Moscow) took part in the Metal-Expo 2015 21st International Industrial Exhibition on November 10-13th in Moscow.
OMK's exhibit stand, where over 30 company representatives were working, was designed as a recognizable modern city environment with the majority of constructions made of metal. The stand showed OMK's vast possibilities for creating steel solutions for constructing infrastructure sites, such as stadiums, airports, shopping centers, parking areas, and housing.
The staff and managers of the company's factories and the Moscow office took an active part in the series of industry conferences, roundtable discussions, and presentations.
OMK received a host of awards and prizes. The staff of Vyksa Metallurgical Works (VMW Joint Stock Company, based in the Nizhny Novgorod region, part of OMK) received the exhibit's gold medal for designing and launching coiled stock and pipes for field pipelines made of 05HGB steel that meet the requirements for resisting carbon dioxide and hydrogen sylphide corrosion. The 05HGB steel is one of OMK's own metallurgical designs implemented jointly with the Bardin Central Research Institute for Ferrous Metallurgy. The jury awarded the silver medal to the Vyksa factory for designing and launching the production of flats and large diameter pipes that meet the requirements for resistance to hydrogen sylphide cracking and cold. The certificates were signed by Alexander Romanov, President of the Russian Union of Metal and Steel Suppliers, and Ilya Chigir, Director of the Metallurgy and Materials Department (under the Russian Ministry of Industry and Trade).
OMK also received awards for its corporate communications. As part of the Metal-Vision competition for the best metallurgical video in Russia and the CIS, the company won in the "Best Script" category and "Panel's Special Choice" for "Man's Great Inventions: the Wheel" sci-fi film. The documentary aims at getting viewers interested in the history of wheel production and use, and raising the prestige of blue-collar occupations. It shows how the production facilities at Vyksa Steel Works operate, making over half of Russia's railway wheels. The company's "OMK Territory" newspaper was voted the best corporate media among the pipe holdings at a corporate communications conference. Valery Pokumeiko, VSW's leading photo and video specialist, won in the "Pipe Up" photo competition, one of its partners being OMK. The exhibition's organizers marked the company's corporate stand with a trophy.
http://omksteel.com/press/5039/?back_url_list=/press/
SPECTA
16.11.2014
The 21st International Industrial Exhibition Metal-Expo'2015 the main event in the steel industry was held on November 10-13 in Moscow.
The exhibition brought together 570 companies from 35 countries and over 27 000 visitors from steel fabrication and metal working sector.
These figures prove non-decreasing interest in this fair and Russian metallurgy. The exhibition demonstrated that metallurgical industry is adapting to new economic realities when the world steel market is under pressure. Adaptation is mainly taking place in new operational models, more efficient business process and new investments which result in diversification of general portfolio.
Specta has participated in Metal-Expo 2015 presenting a new brand of high tensile steel strap Specta Delta specially designed for packaging of heavy and hot products, including strapping of hot rolled metals with thickness up to 25mm, as well as metal pipes, ingots of different alloys, bars, rods etc. Higher strap elongation allows to endure bigger break loads and keep the integrity of the strapped package. Among the exhibits there were well-known steel packaging straps Specta Prima, Specta Factor and Specta Forte in standard coils for automatic and manual strapping, and Jumbo and Super Jumbo coils for automatic strapping.
Specta exhibited a full assortment of strapping tools: pneumatic, battery and manual that were demonstrated in operation and attracted a lot of visitors. Specialists could try on the scene the reliability of strap fastening.
A large number of visitors showed a high demand for new marking solutions presented at Specta stand by thermo transfer printers, high duty tags and heat-resistant labels and tags for hot metal products.
Specta experts gave over 250 consultations on metal product packing. Multiple talks and meetings resulted in a number of agreements on deliveries in 2016.
http://www.specta.com/news/new-packaging-product-metallurgy-sector-specta
NLMK Group
13.11.2015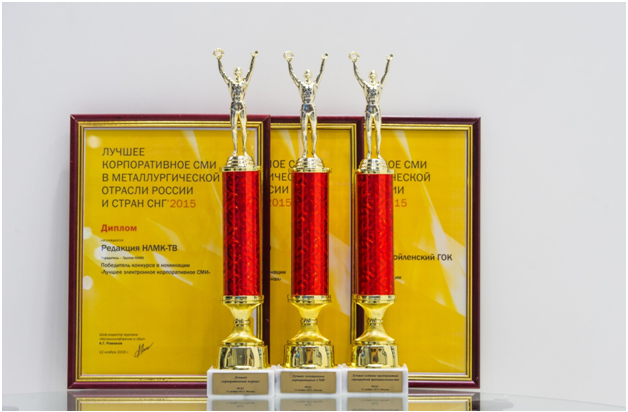 NLMK Group's corporate media, including NLMK-TV online television; the quarterly NLMK Group corporate magazine; and Stoilensky's 'The Big Ore' newspaper topped their respective categories in the 'Best Corporate Media in the Steel Sector in Russia and the CIS –2015' competition, which is held annually in Moscow as part of the Metal-Expo international industry exhibition.
NLMK Group's corporate television, launched in April 2014, tops the 'Best On-line Corporate Media' category for a second year running.
NLMK-TV has a target audience of more than 50,000 people. It is broadcasted through the Group's internal intranet portal. Videos are published on NLMK Group's YouTube channel, allowing employees from all NLMK Group sites to watch NLMK-TV releases at any convenient time.
NLMK-TV delivers up-to-date online information on the Company's production and social issues to employees of all NLMK Group production sites, allowing them to follow all the latest Company news. The corporate TV channel broadcasts a wide range of programmes including interviews, documentaries, employee surveys, video presentations of new equipment, and much more.
NLMK Group's Corporate Magazine tops the 'Best Corporate Magazine' category
Winner of multiple professional competitions and ratings, including the 'Silver Threads' competition for corporate media resources, NLMK Group's corporate magazine has been published since 2005. The goal of the magazine is to bring together NLMK Group's production sites in Russia, the USA, and Europe. The magazine is published in Russian and in English. The concept of the magazine has been completely transformed over the last two years: an exclusively intracorporate magazine turned into one of the Company's trademarks, with an expanded set of topics and a team of contributing authors. Today, NLMK employees perceive the magazine as a reliable source of information; with devoted readers among both management and line personnel.
'The Big Ore', Stoilensky's (part of NLMK Group) corporate newspaper, tops the 'Best Mining Industry Publication' category
'The Big Ore' newspaper is a Metal-Expo winner for the second year running. The newspaper has been published since June 1982. Published bi-monthly, with a print run of 6000 copies, 'The Big Ore' is distributed free of charge to current and former Stoilensky employees. In 2014, the newspaper was rebranded and its structure changed to a 12-page colour edition that features a modern design.
About NLMK Group's internal communications
The Group has an effective system of internal communication covering all production sites which comprises several communication channels: an intranet information portal; corporate newspapers at NLMK's Russian production sites; NLMK Group Corporate Magazine; newsletters at NLMK Europe and NLMK USA; NLMK-TV online television; an email subscription; accounts in social networks; a system of feedback for employees; and other channels.
A well-developed system of internal communication enables NLMK Group to not only deliver information to each and every employee in a timely fashion; but to deliver information that is important and interesting in a convenient format. Company employees have the opportunity to not only read interviews and articles; but to contribute to the communication agenda themselves by posing questions to the management or PR staff. Internal communication plays an important role in providing motivational and information support for NLMK Group's strategic programmes.
http://nlmk.com/press-release?pid=1217
Stalinvest
16.11.2015
09 November, 2015 within the 20th anniversary of international exhibition "Metal-Expo'2015" the results of the contest "The best Russian steel service centre 2015" were summed up.
As usual steel centres from the whole country took part in the contest.
JSC "Stalinvest" has again confirmed its high quality level of production, got the award "The best Russian steel service centre 2105" in the category "For the high quality level". Thus, our company has demonstrated once again the efficiency of its Quality management system, that was implemented in 2005 and is verified during annual audits hold by TUV company (Germany).
http://www.eng.steelinvest.ru/news/2731/
BMZ
23.11.2015
Byelorussian Steel Works became the winner of Cup "The best exposition" in 21st International industrial exhibition "Metal Expo-2015". Two awards for the best video in metallurgy increased the BMZ collection at this autumn event.
This year the industrial exhibition "Metal Expo-2015" gathered 570 companies from 34 countries. 420 booth were placed at Moscow halls of All-Russian Exhibition Center, one of which was OJSC "Byelorussian Steel Works –management company "BMC " holding". During four days more than 25 thou. people visited the BMZ stand that was occupied 98 square meters . In the participants' judgment the Belarusian metallurgists succeeded in emphasizing the individuality and peculiarity of Byelorussian metallurgical company, in advertising achievements, new technologies and projects. The main idea of BMZ presentation became the promotion of new rolling shop-2 products.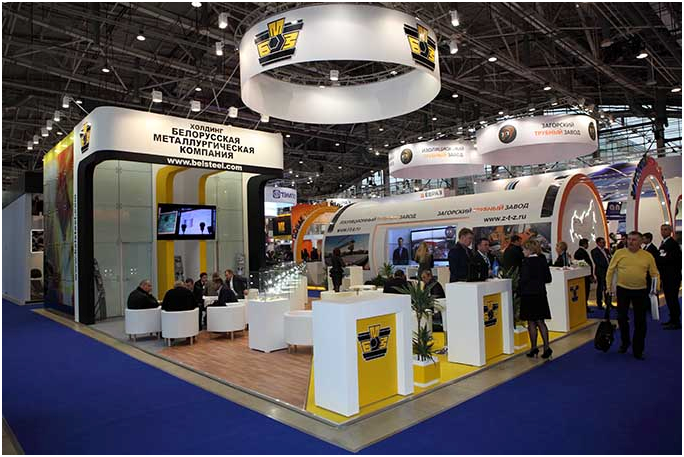 The top managers, representatives of commodity distribution network and marketing specialists of BMZ took an active part in all events within the forum. By the way, the program was enough massive: more than 40 conferences, seminars and round table discussions that were devoted on different steel market shares, scientific and technical development, materials technology and etc.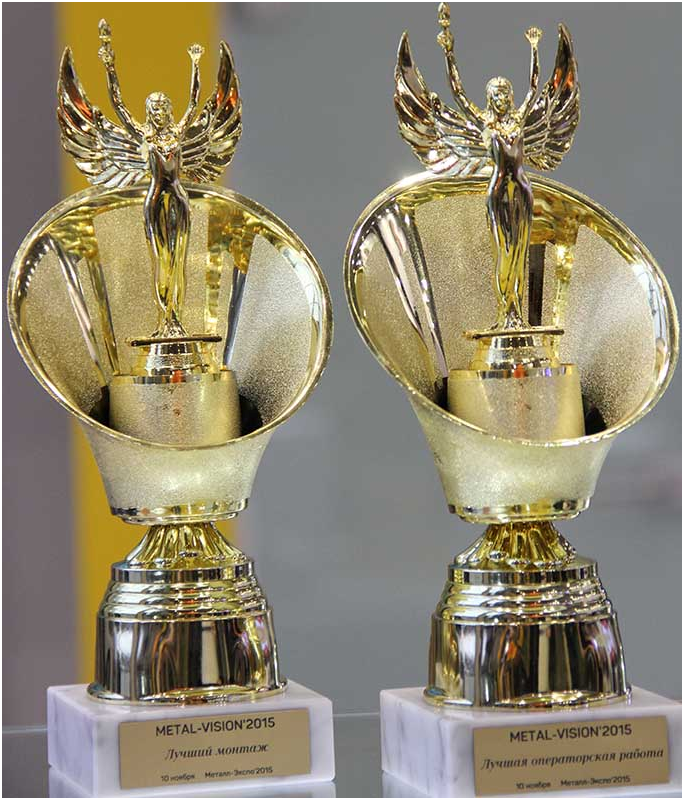 In summing up the results, the specialists appreciated highly the efficiency of their participation in forum. In their opinion, Metal Expo is the best platform for direct contacts and and more profound dialogs with customers. Here it is possible to discuss all questions, learn client demands, solve efficiently incipient problems. An enough fruitful activity in this exhibition will give an additional impulse to develop mutual relationship with suppliers and customers of BMZ products.
http://www.belsteel.com/eng/press/news.php?id=875
DNEPROSPETSSTAL
23.11.2015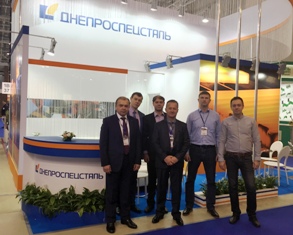 November 10 - 13 in Moscow the 21th International Industrial Exhibition «Metal-Expo 2015» was held, which was attended by 570 companies from 34 countries. About 27 thousand people visited it during the four days. It ought to be noted that our company participates this event every year.
The leading metallurgical companies - pipe and wire factories, enterprises for processing of non-ferrous metals, manufacturers of rolled aluminum and alloys, transport and logistics companies, metal traders, engineering firms and developers of IT solutions for the metallurgy and mechanical engineering, manufacturers of modern equipment for engineering and steel mills and service metalcenters were represented among the exhibitors.
According to participants, the exhibition «Metal-Expo 2015» - is the best platform for direct contact and better communication with consumers. It is possible to discuss all the questions, learn the needs of customers, solve the problems promptly and secure communication by mutually beneficial contracts.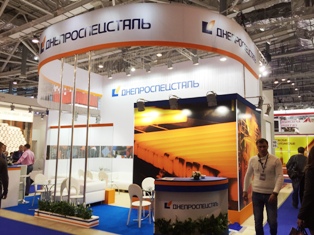 At the exhibition «Metal-Expo 2015» in Moscow our company was represented by Deputy Chairman of the Board - Sales Director Alexander Shabanov, Deputy Chairman of the Management Board - Production Director Sergey Kalashnikov, sales service specialists, as well as attended in full by our colleagues from LLC Trading Company "DSS-m ".
- Exhibition is trendy and, therefore, is important for any self-respecting Enterprises, - says Alexander Shabanov. - Everything was organized at a high level, so participation in this event for us is a traditional and important. Being a part of such activities is vital. I believe that now we can not lose the tried and tested for years. Together with our partners we summed up the past year and agreed on plans for the future.
Stay at the exhibition was exclusively the business and every day was mapped out. Besides serving of DSS information stand at the exhibition, the negotiations were held by our delegation with all major customers. These are companies from Italy, Russia, Ukraine, Bulgaria, Finland, Czech Republic and other countries.
- We believe in the best and do everything possible for it, - Alexander Shabanov concluded optimistically
http://www.dss-ua.com/eng/press/news/article.wbp?article-id=34AD2E25-AC10-0850-00EB-CDBB576C2063
Belenergomash
16.11.2015
From 10 to 13 November in Moscow held a large-scale metallurgical exhibition - "Metal-Ekspo'15." The event this year was attended by over 550 companies from 33 countries of the world that have demonstrated the diversity of ferrous and non-ferrous metallurgy, modern equipment and technologies for metallurgy and metalworking.
The company "Belenergomash - BZEM" presented at the exhibition the capabilities of its metallurgical complex, equipped with modern equipment for melting, ladle treatment, evacuation and casting. The high demand from visitors to the stand was the seamless pipes and forgings made from ingots of own production. The attention of visitors enjoyed the unique and complex metal structures that can produce our factory. He was interested in the experience of successfully completed projects for the delivery of steel structures for such items as "Zenit-Arena" and "Western High Speed ​​Diameter" in St. Petersburg.
Exhibit space provided the best opportunity to find out what new technologies have emerged in the steel plants, make new contacts, meet with partners and identify new ways of development. The show has once again demonstrated that Russian industry continues to evolve.
http://www.energomash.ru/news/belenergomash-na-vystavke-metall-ekspo-15.html
Ruscana Engineering
18.11.2015
Yet another great exhibition took place in Moscow on November 10 through November 13, 2015. Ruscana Engineering Group participated in Metal-Expo 2015, 21st annual fair.
At our stand, we presented our Metal Fence Production Line, along with popular samples of numerous metal sidings and fencing systems. As always, our consultants were there to provide everybody with detailed info on our products and to answer any questions.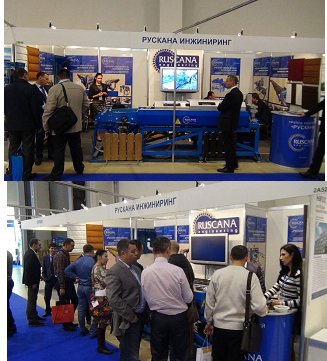 http://ruscana.ru/EN/news/METALL_EKSPO_2015/
Finprofile
16.11.2015
The specialists of PJSC "Finprofile" took part in the international exhibition "Metal-Expo 2015". It should be noted the high attendance of the exhibition and the interest shown by visitors to the equipment for processing of sheet steel.
During the exhibition, we met partners who are already working on the lines of production of PJSC "Finprofile", and continue to take an active interest in our equipment. Our customers are successful entrepreneurs and professionals of the market of metal products, so we value every opinion, every word. This wealth of practical knowledge enables us to develop and implement our products successfully.
We devoted a lot of time to companies which are unfamiliar with the high quality of our equipment. We pay great attention to their questions and always ready to become reliable assistants on the way of successful implementation of new ideas and projects.
http://finprofile.com/en/novosti-2
Baltic Bearing Company
19.11.2015
Group of companies Baltic Bearing Company was one of 570 participants in the 21st International Industrial Exhibition "Metal-Expo 2015", which was held from 10 to 13 of November in the 75th pavilion of VDNkHa in Moscow.
Every year International Industrial Exhibition "Metal-Expo 2015" gathers leading steel companies, tube and wire factories, producers of non-ferrous metals, rolled aluminum and alloys, steel and SMC suppliers, builders, machine engineers, oilmen and gas industry workers, and also representatives of other economic sectors.
Visitors of our booth could review the company's products, get detailed information about our plant and products.
This exhibition once again has demonstrated that the market is interested in the new high-quality bearing products.
http://www.bbcr.eu/news/participation-baltic-bearing-company-21st-international-industrial-exhibition-metal-expo-2015/
BUCE
18.11.2015
As part of the programme of Metal Expo 2015, BUCE held an international conference "Using electronic metal trading platform of the Belarusian Universal Commodity Exchange to develop the Customs Union metals market". The conference brought together over 50 major metal traders and producers.
In his welcoming address, Alexander Romanov, President of the Russian Union of Metal Suppliers, noted that BUCE is the only successfully implemented project on the use of exchange mechanism for metal trading in the CIS. In his turn, Oleg Yakubovich, BUCE Senior Vice-Chairman, told the participants about practical results of the Partnership Agreement between BUCE and RUMS. He also provided detailed information regarding the opportunities for trading metal and products made thereof at BUCE's electronic platform.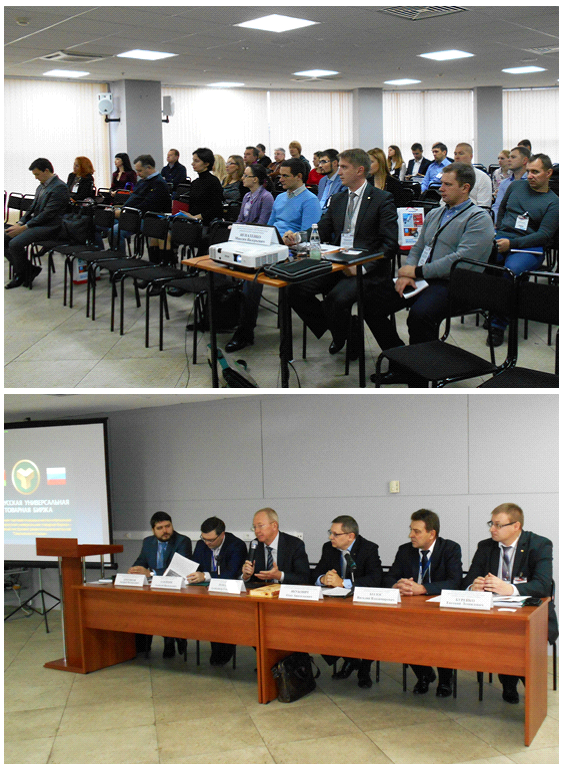 Additionally, Evgeni Bureiko, head of BUCE's metal trading section, explained the procedure of accreditation and participation in exchange auctions, while the representative of Atomenergoexport (BUCE's exchange broker) shed light on the forthcoming exchange auctions to purchase metal and construction materials for Belarus' first nuclear power plant.
The conference was followed by a workshop dedicated to practical aspects of buying and selling goods at BUCE's metal trading platform.
On the same day, Oleg Yakubovich, BUCE Senior Vice-Chairman, and Vitali Kolos, head of BUCE Moscow office, also took part in the seminar "Commodity exchange market of Russia 2015" organized by Saint Petersburg International Mercantile Exchange.